Wednesday, November 30, 2005
Okay. So my lovely LCD screen is currently back to normal. Now that school is offically over for me, I shall be able to post a great deal more in this blog apart from a few days next week when I will be going overseas for a long awaited trip to Hong Kong. (Disneyland!)

To begin with this week recommendation, we have two games. The Nick Bounty games. I remember posting the games in my old blog a few months back but should you not seen it back then, you should really played it now.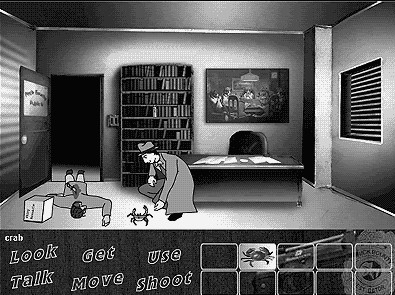 A Case of the Crabs is about a poor detective who somehow gets really lousy jobs; except this time he's in for a surprise because of a murder that happens in his office. It is now up to the great detective to solve the murder (and find out how crabs have to do with it). Apparently, this game is based on a series of 1980s movies. It has a classic white and black film feel and I really like the plot.

This is not an easy game unless you seek the help of the walkthrough. Try not to use it through. It will be a lot more exciting and satisfying to play this game on your own. A Case of the Crabs is one of the best and most addicting point and click games out there so make sure you have loads of free time before playing. It takes a while to load the game if you do not have cable/broadband.



While the graphics of the sequel to A Case of the Crabs is undoubtly better, The Goat in the Grey Fedora simply fell short of the previous game. This time you have to guide Nick Bounty in finding a ceramic goat (hence the name), and you may find out why people have been 'freezing up' as you get closer in solving the case.

Its plot is not as good and as hilarious. Probably because of graphics, the file size of the game is huge. Around 42mb to be exact. Not the type of game you'll play if you have a slow connection. Also, while playing the game I can't help but feel that the game developers have spent a tad too much effort on the graphics and neglected the plot. Still, it is a great game. Although if you have time only for one game, I suggest you play the impressive A Case of the Crabs. Simple but great.
Posted by

noodles
at 6:58 AM